Tōkyō – the vibrant and prosperous capital of Japan, is one of the famous tourist destinations around the world.
Besides skyscrapers with bright lights, luxury shopping centers or high-class restaurants, Tōkyō still has many ancient architectural works with historical value.
In this article, I will introduce 22 of Tōkyō's most famous and iconic tourist attractions, which will surely give you a more comprehensive view of the Japanese capital.
If you're traveling to Tokyo for the first time and don't know where to go, or you've been to Tokyo and want to find new destinations, you should definitely check it out.
Tōkyō Imperial Palace (皇居): residence of the Emperor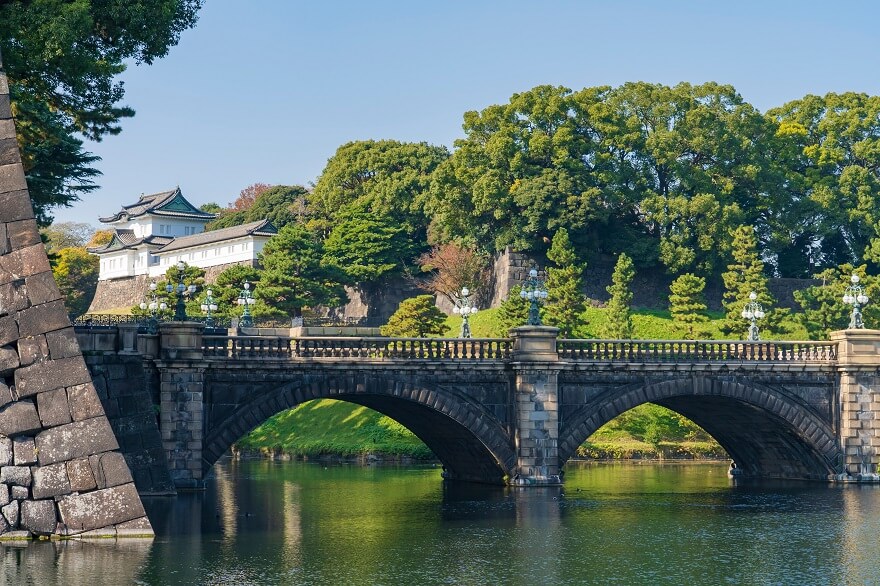 Tōkyō Imperial Palace was the residence of successive Emperors from Emperor Meiji to the present Emperor.
Surrounded by moats and vast gardens, the Tōkyō Imperial Palace has a dignified and tranquil atmosphere almost isolated from the bustling outside world.
Tōkyō Imperial Palace was originally Edo Castle – the former castle of the Tokugawa shogunate government.
Therefore, visiting the inside of the Imperial Palace, you will be able to see some architectural remnants such as the foundation of Edo Castle, the gate, the watchtower…
Exploring the Tōkyō Imperial Palace, you can not only see the exquisite architecture, but also get a closer look at the life and duties of the Japanese Imperial Family.
Tōkyō Imperial Palace (皇居)
Homepage: https://sankan.kunaicho.go.jp/english/guide/koukyo.html
Open hours:
・Inside the Imperial Palace: 10:00 and 13:30
・National Park outside the Imperial Palace: 24/24
Ticket price: free
Map:

Read more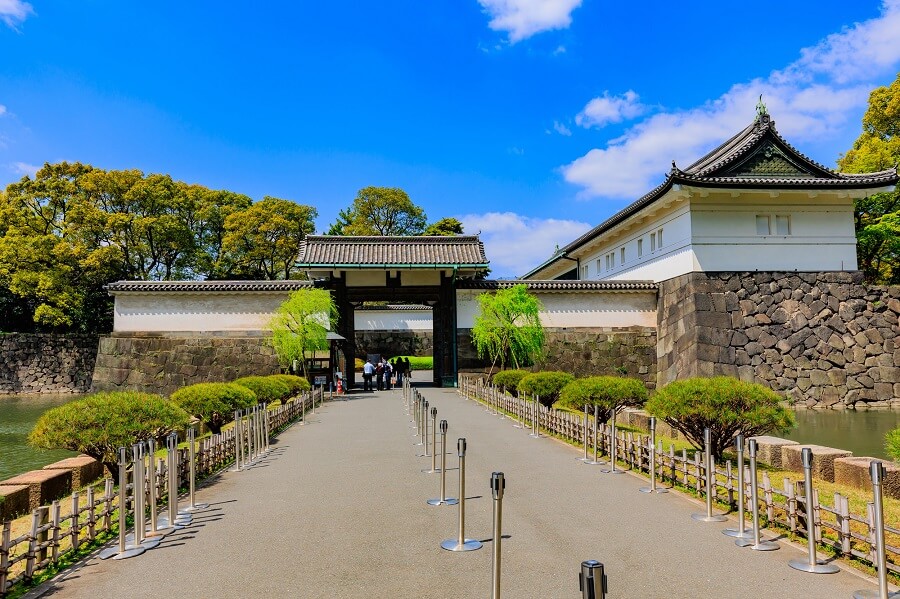 The Imperial Palace is one of the most popular tourist attractions in...
Meiji Jingū Shrine (明治神宮): the sacred Shinto shrine with the largest number of visitors at the beginning of the year in Japan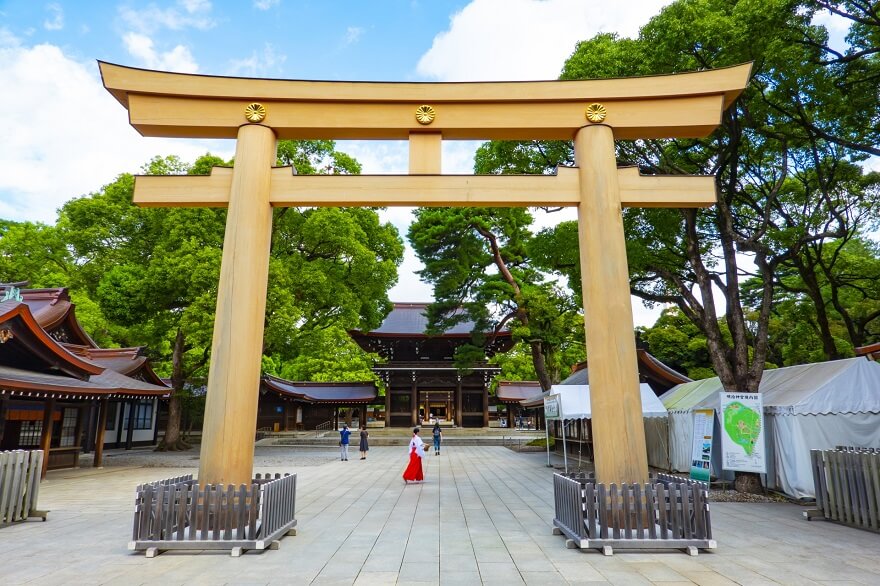 Meiji Jingū Shrine is the most famous Shinto shrine in Tōkyō, and also boasts the largest number of first-year visitors in Japan.
Completed in 1920, Meiji Jingū Shrine is dedicated to Emperor Meiji (明治天皇, Meiji Tennō) and his wife Empress Shōken (昭憲皇太后, Shōken Kōtaigō).
Inside the shrine, you can learn more about Meiji Jingū Shrine by visiting the Meiji Jingū Museum or the Hōmotsuden Shrine, which displays items used by the Emperor and Empress.
Meiji Jingū Shrine is also a very popular Japanese shrine for weddings. If you go at the right time, you can see a traditional Japanese wedding ceremony.
Meiji Jingū Shrine (明治神宮)
Homepage: https://www.meijijingu.or.jp/en/
Open hours: not fixed (range 6am ~ 5pm)
Ticket price: free
Map:

Sensōji Temple (浅草寺): the oldest temple in Tōkyō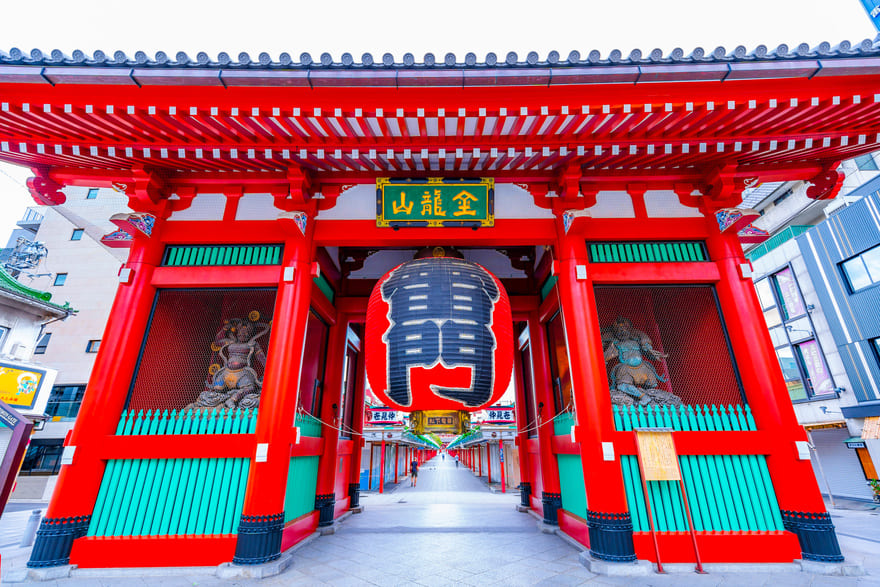 Sensōji Temple (浅草寺), also known as Asakusa Kannon Temple (浅草観音), is a place of worship dedicated to the Bodhisattva Avalokitesvara.
Located in the Asakusa neighborhood, Sensōji Temple was built in the 7th century and is considered the oldest temple in Tōkyō.
The most famous sightseeing of Sensoji Temple is the magnificent red Kaminarimon Thunder Gate, which is also a typical check-in point for most tourists when visiting Tokyo.
However, the more you step into the inner grounds, you will realize that Sensōji Temple has many equally beautiful and unique structures, such as the "treasure" gate (Hōzō-mon) or the Main Hall (Kannon-dō).
Sensōji Temple is an ideal place to slowly take a look at the ancient architecture and learn more about Japanese Buddhism.
Sensōji Temple (浅草寺)
Homepage: https://www.senso-ji.jp/english/
Open hours:
・Outside Main Hall: 24/24
・Main Hall (April~September): 6:00~17:00
・Main Hall (October ~March): 6:30~17:00
Ticket price: free
Map:

Read more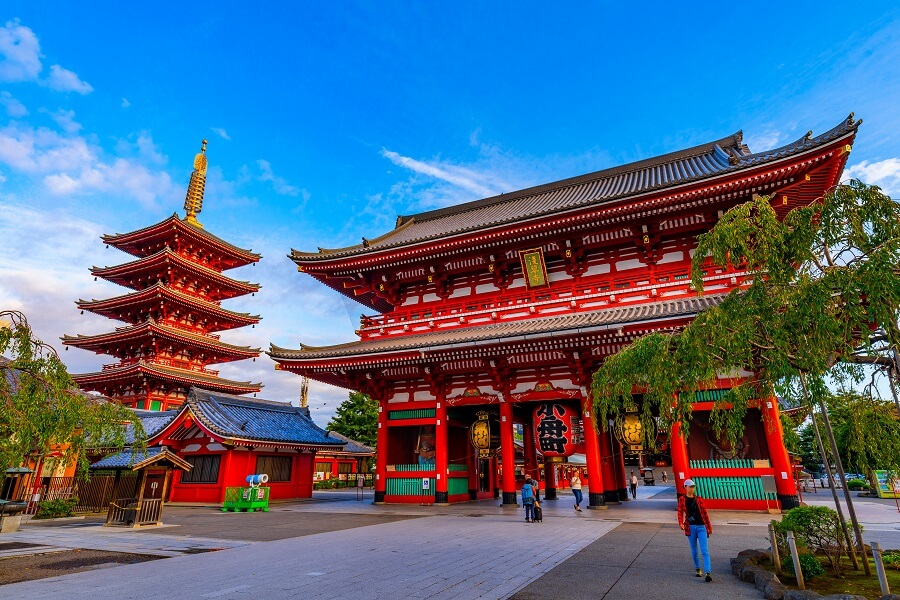 Sensoji Temple is one of the most popular tourist destinations in Tok...
Tōkyō Tower (東京タワー): the "heart" of the Japan's capital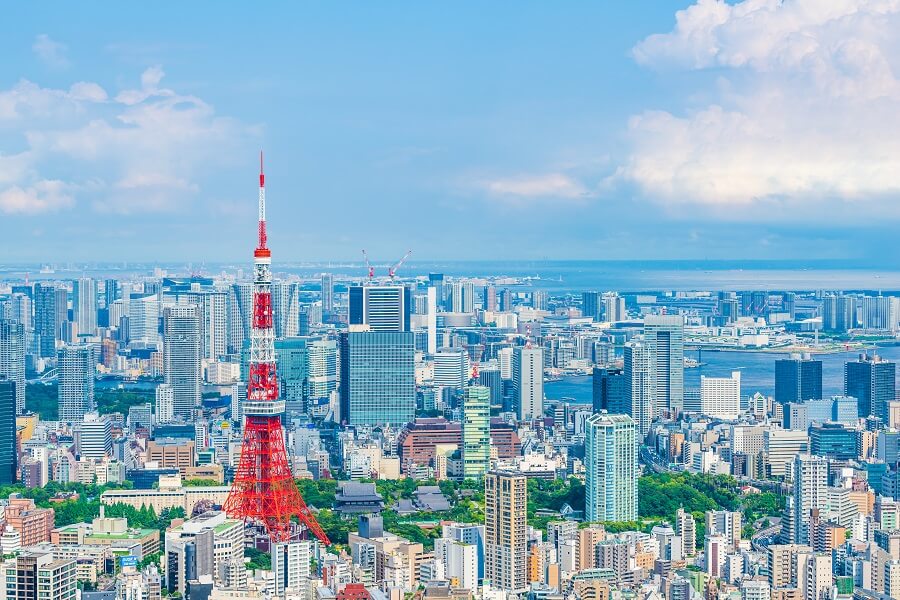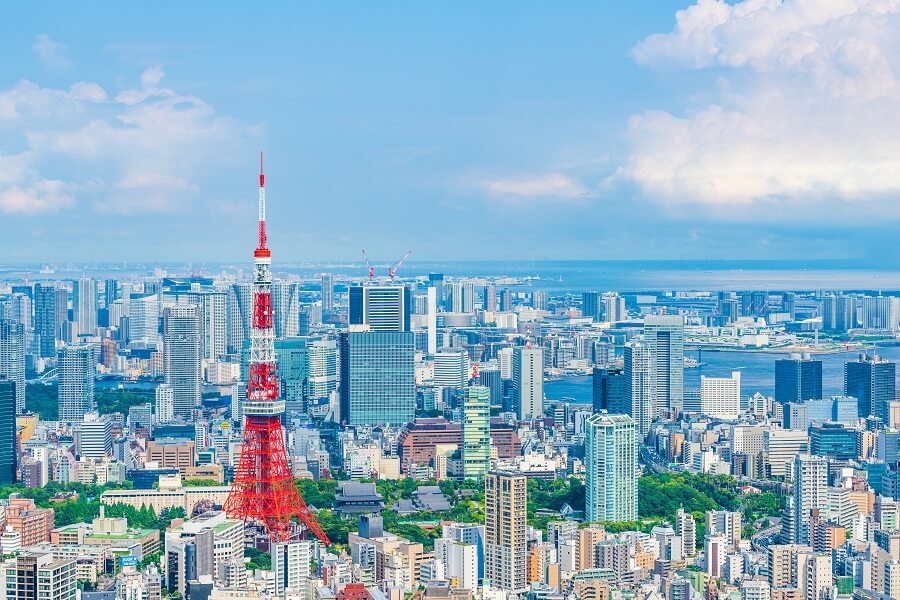 Tōkyō Tower was completed in 1958. With a height of 333m, it was considered the tallest tower in the world at that time.
Inspired by the Eiffel Tower in Paris (France), Tōkyō Tower is an impressive architecture with two main colors, white and red.
It has two observatories for visitors, including the main observatory at 150m (Main Deck) and the top observatory at 250m (Top Deck). From there, you can enjoy panoramic views of Tokyo's capital and famous landmarks like Tōkyō Bay, Tōkyō Skytree, Imperial Palace, and Mount Fuji (weather permitting).
Although it has been more than 60 years since its inauguration, with a combination of unique architecture, beautiful views and fascinating activities, Tōkyō Tower still attracts millions of tourists each year and is a destination not to be missed when coming to Tokyo.
Tōkyō Tower (東京タワー)
Homepage: https://www.tokyotower.co.jp/en/
Business hours: 9:00~
Ticket price: from 1,200 yen ~
Map:

Read more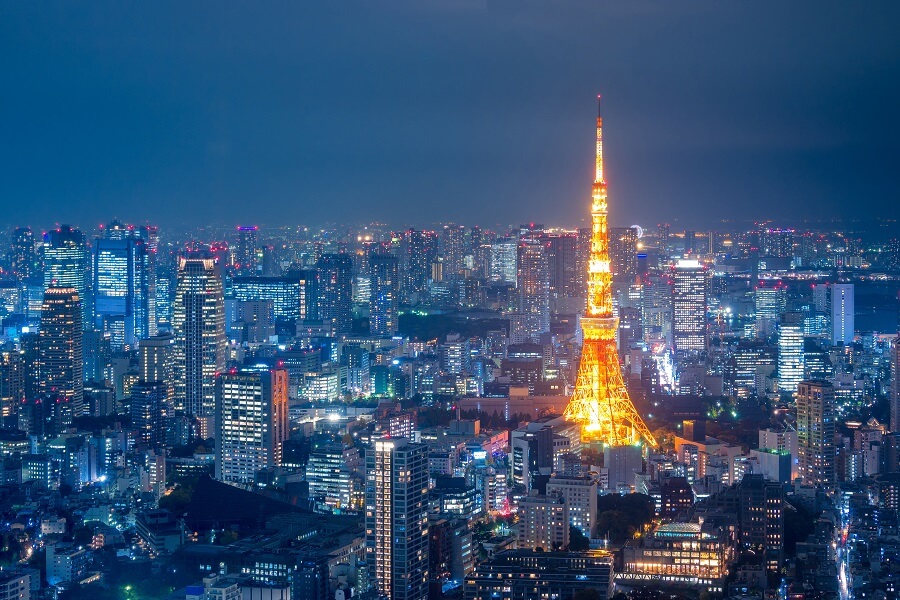 Tōkyō Tower, a unique cultural and architectural symbol of Japan, is ...
Tōkyō Skytree (東京スカイツリー): the tallest tower in Japan
In 2012, the Tōkyō Skytree Tower was inaugurated. With a height of 634m, it officially becomes the tallest tower in Japan and also the tallest freestanding TV tower in the world at the moment.
Besides its main role as terrestrial digital broadcaster, the Tōkyō Skytree also features two observatories at 350m and 450m, providing visitors with an unsurpassed experience and stunning panoramic views of Tōkyō.
Designed based on the image of a large tree reaching into the sky with an architectural style that blends tradition and modernity, the Tōkyō Skytree creates a timeless and spatial landscape that you cannot find anywhere else. any other area.
Tōkyō Skytree Tower (東京スカイツリー)
Homepage: https://www.tokyo-skytree.jp/en/
Open hours: 10:00~21:00
Ticket price: from 1,800 yen ~
Map:

Tōkyō Station (東京駅): the gateway to the capital Tōkyō
Opened in 1914, Tōkyō Station has existed as a symbol of Japan's capital for over 100 years now.
If you have the opportunity to come here, you should stop by the "Marunouchi red brick building" – the most famous architecture and also the representative image of Tōkyō Station.
The beauty and grandeur of the building makes anyone who visits for the first time stop to admire.
What if you want to find unique souvenirs or enjoy great Japanese food?
"Gransta Tōkyō" located right in Tōkyō station is recommended for you.
Restaurants, cafes, bars, bakeries, cosmetics, souvenirs… "Gransta Tōkyō" has almost everything you're looking for.
In particular, there are many limited products sold only at Tōkyō station, so don't forget to take a look around the shops to choose a gift as a souvenir for your trip.
Tōkyō Station (東京駅)
Map:

Akihabara (秋葉原): paradise of electronics, Manga and Anime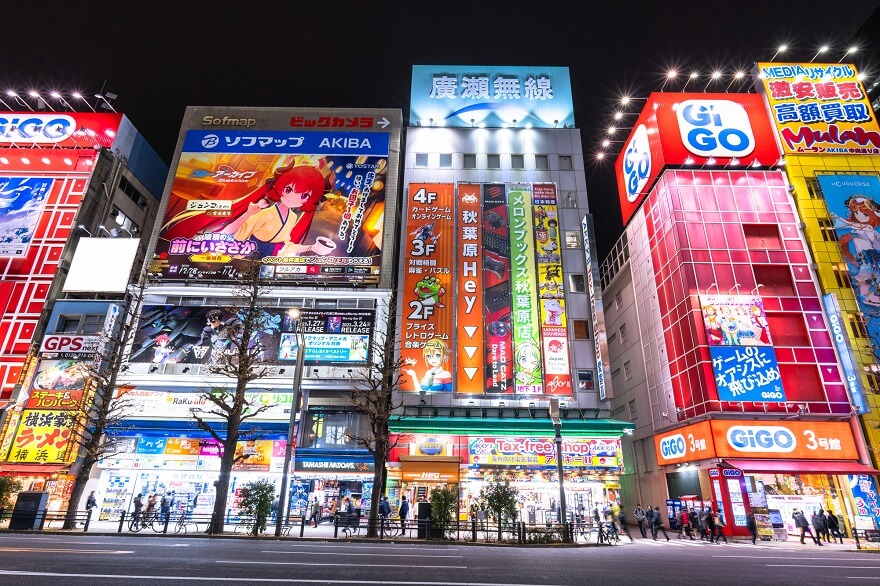 Akihabara is known as Japan's leading electronics town.
Considered a paradise for technology enthusiasts, Akihabara is home to hundreds of stores that specialize in providing electronic products such as computers, mobile phones, game consoles and technology accessories, from the latest products to the rare and hard to find products.
More than just a tech shopping destination, Akihabara is also considered the center of Japan's "subcultures" with lots of shops and galleries of Manga and Anime related items.
At night, the streets here are simultaneously lit with neon lights, creating a very unique and stylish space.
Take a stroll through the streets of Akihabara to get lost in the world of technology and entertainment in Japan.
Akihabara (秋葉原)
Map:

Shibuya (渋谷): the place leading fashion and culture trends in Japan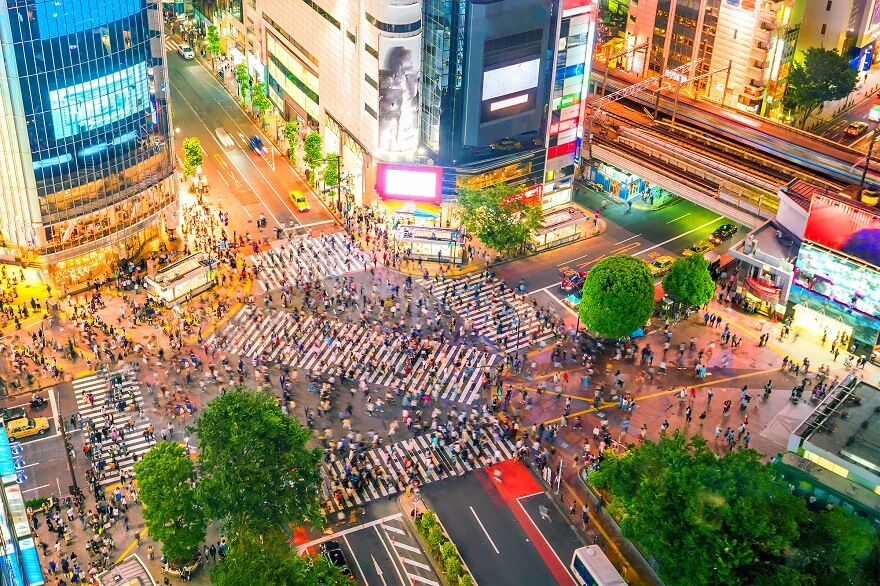 With its wide streets, skyscrapers, famous brand stores and lively atmosphere, Shibuya has become one of the popular destinations for both locals and visitors.
The central area of ​​Shibuya is the "Shibuya Scramble Crossing", considered to be one of the busiest intersections in the world.
At rush hour, more than 3,000 people cross the intersection at the same time, and 500,000 people come and go in a single day.
You can try to blend in with the hustle and bustle to feel the dizzying dynamism of Shibuya, but there is a more poetic way to enjoy this view from a cafe in a building nearby high-rise buildings.
Shibuya is also known for leading fashion trends in Japan.
It will not be an exaggeration to say that if you want to know what kind of fashion is trending in Japan, just visit Shibuya, specifically the building "SHIBUYA 109" which is considered a mecca of young people who are sensitive to trends direction.
Shibuya is also a cultural and entertainment hub with many cinemas, bars, restaurants, karaoke and record stores. In addition, live performances such as magic, music and events are also held daily.
It can be said that Shibuya is the ideal destination if you want to experience the vibrant nightlife of Tōkyō.
Shibuya (渋谷)
Map:

Shinjuku (新宿): the neighborhood with the most "faces" in Tokyo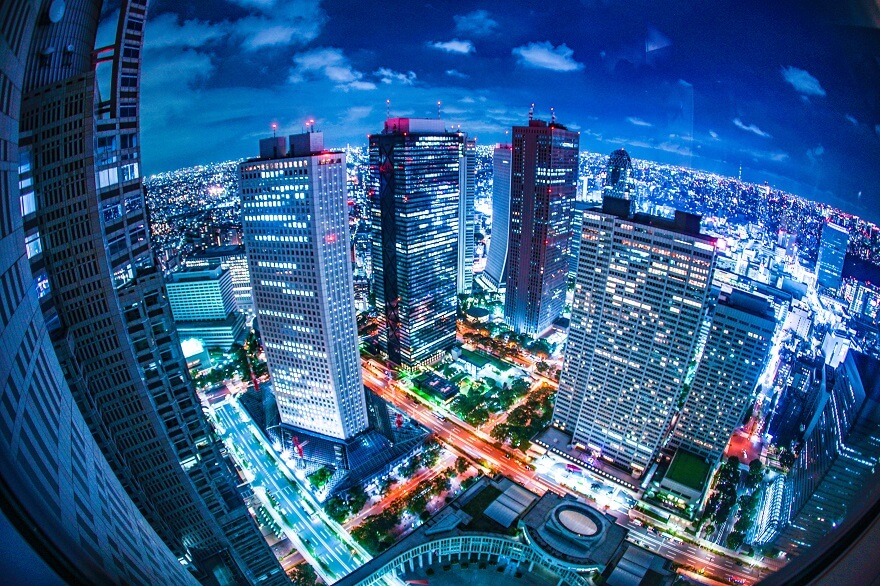 In terms of diversity, among the 23 districts of the capital Tōkyō, it can be said that Shinjuku district is the best candidate.
With Shinjuku Station as the center, depending on the direction out, you will see different "faces" of Shinjuku district.
The West is a skyscraper area, the East is a large shopping area with a series of shopping malls and cinemas. To the northeast is the bright red light district "Kabukichō", and to the southeast is the peaceful green "Shinjuku Gyoen" national park.
There are many ways to enjoy Shinjuku.
You can visit the "Tōkyō Metropolitan Government Building" for a panoramic view of Tokyo from the 200m-high observatory (free of charge).
At night, visit the "Shinjuku Golden Gai" area – home to more than 200 Izakaya (Japanese-style pubs) to sip some sake while immersing yourself in the old Shōwa atmosphere.
Note that although it is one of the must-see destinations when visiting Tokyo, the Shinjuku district is also quite complicated, so you should avoid places where there are no people or avoid answering if a stranger initiates a conversation.
Shinjuku (新宿)
Map:

Harajuku (原宿): street fashion explosion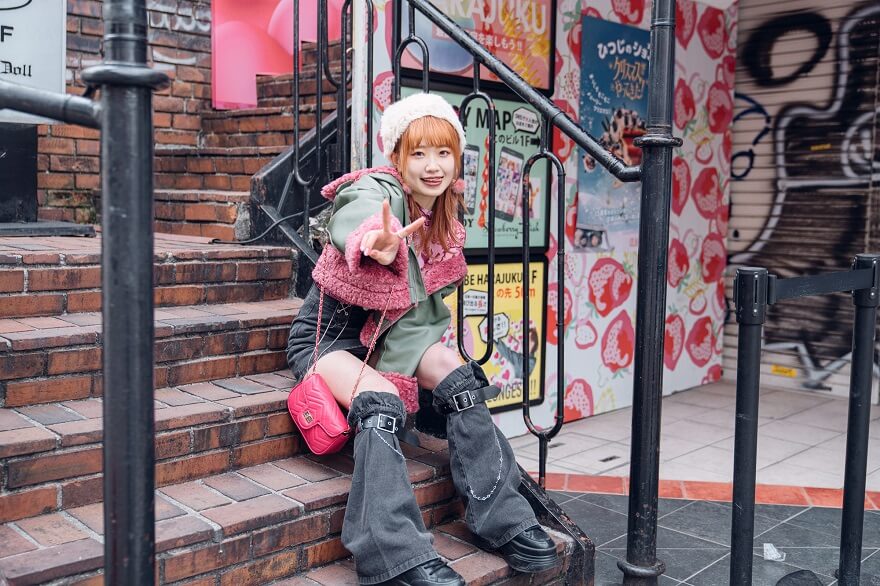 Harajuku is a station located between Shibuya and Shinjuku on the JR Yamanote line that runs around central Tokyo.
Harajuku is considered a place where street fashion is free to explode.
Cute, classic or extreme, whatever your fashion sense, Harajuku is definitely the perfect environment for you to walk confidently.
Drop by Takeshita street right in front of the station to see sweet Lolita girls in elegant dresses, rebellious Decoras filled with colorful and bold accessories, or young people wearing cosplay costumes according to the Manga and Anime characters.
Harajuku is also a great place to enjoy popular street food.
The most famous can be mentioned the delicious crepe cake or giant rainbow cotton candy that has become a specialty when it comes to sweets in Harajuku.
The constant crowds and bustle in Harajuku can make you feel tired, but if you want to learn about Japan's youth or the current trends, Harajuku is definitely a place not to be missed.
Takeshita Street in Harajuku (竹下通り)
Homepage: https://www.takeshita-street.com/
Map:

Ueno Zoo (上野動物園): the first zoo in Japan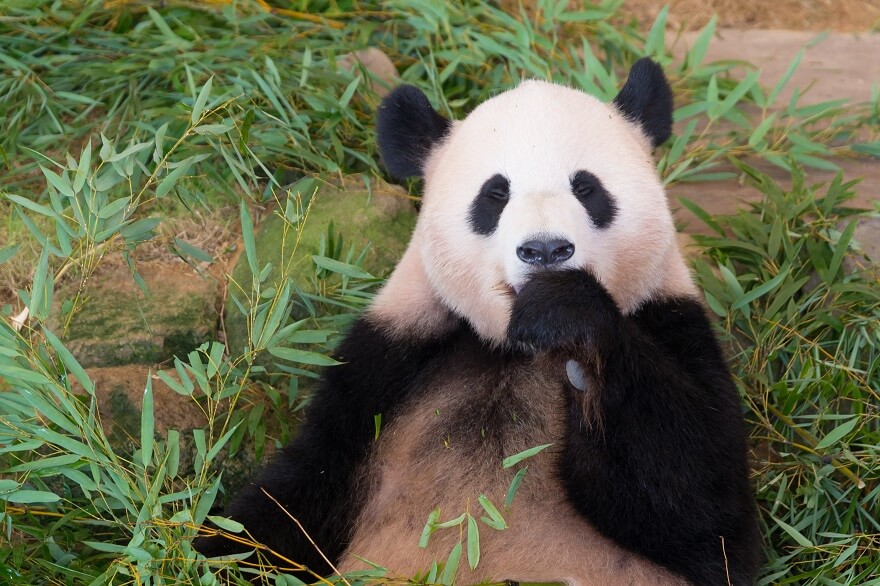 Ueno Zoo was the first zoo in Japan, opened in 1882.
Besides the famous Pandas, Ueno Zoo is also home to more than 3,000 animals of 300 different species around the world.
Ueno Zoo consists of two main areas, the East Garden and the West Garden.
The East Garden, dense with ancient trees, is home to gorillas, tigers, elephants, bears, polar bears and seals.
The romantic West Garden with lotus flowers and scattered islands is home to pandas, reptiles, giraffes and birds.
This is also the only place in Japan that can see animals such as Aye-Aye, Fossa or the spear-nosed lemur native to the Madagascar archipelago.
If you're an animal lover, why not spend a few hours on your Tōkyō tour to visit Ueno Zoo?
Ueno Zoo (上野動物園)
Homepage: https://www.tokyo-zoo.net/english/ueno/index.html
Open hours: 9:30~17:00 (Closed on Monday)
Ticket price: 600 yen
Map:

Ameyoko Market (アメ横): 500 meters, 400 shops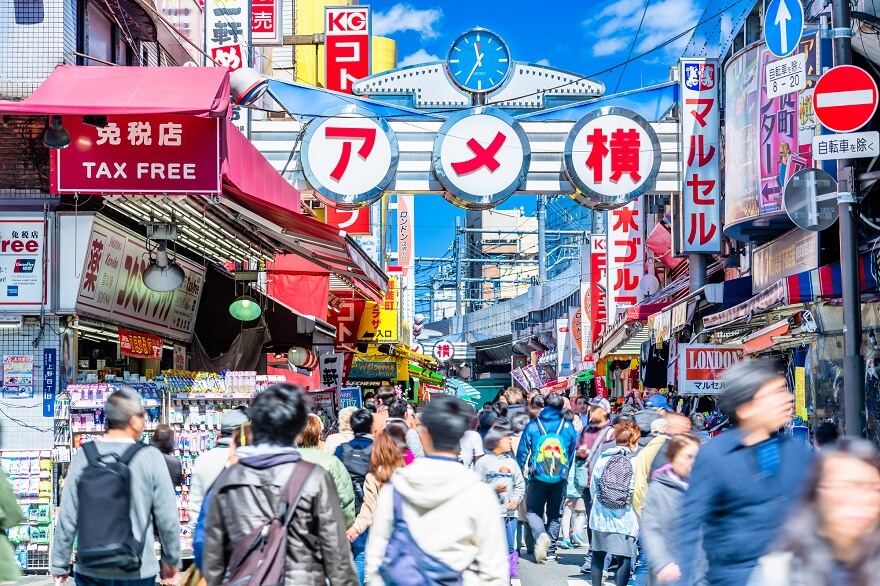 Another place that you should visit in the Ueno area is the Ameyoko market.
As one of the most famous markets in Japan, Ameyoko welcomes thousands of visitors every day, both locals and visitors from all over the world.
Only about 500m long, but Ameyoko market has more than 400 shops.
It can be said that in Ameyoko, everything is sold, from clothes, shoes, bags to electronics, cosmetics and food.
The most interesting thing about Ameyoko is that you can bargain with the staff to buy the item at the best price. Talk to the seller with confidence and you'll be amazed at their wealth of knowledge and humour.
Don't be surprised when you can get amazingly cheap Adidas or Nike sneakers, or a bag of nearly 3,000 yen worth of Japanese chocolate candies for just 1,000 yen in Ameyoko.
After shopping, you can visit the street food stalls to enjoy a portion of Kaisen-don (raw seafood rice) or Takoyaki for example.
Small stalls side by side, laughter, shouts and the smell of delicious food, are you ready to immerse yourself in the lively world of Ameyoko?
Ameyoko Market (アメ横)
Homepage: https://www.ameyoko.net/
Open hours: 10:00~19:00 (depending on the store)
Map:

Toyosu Market (豊洲市場): the largest fish market in the world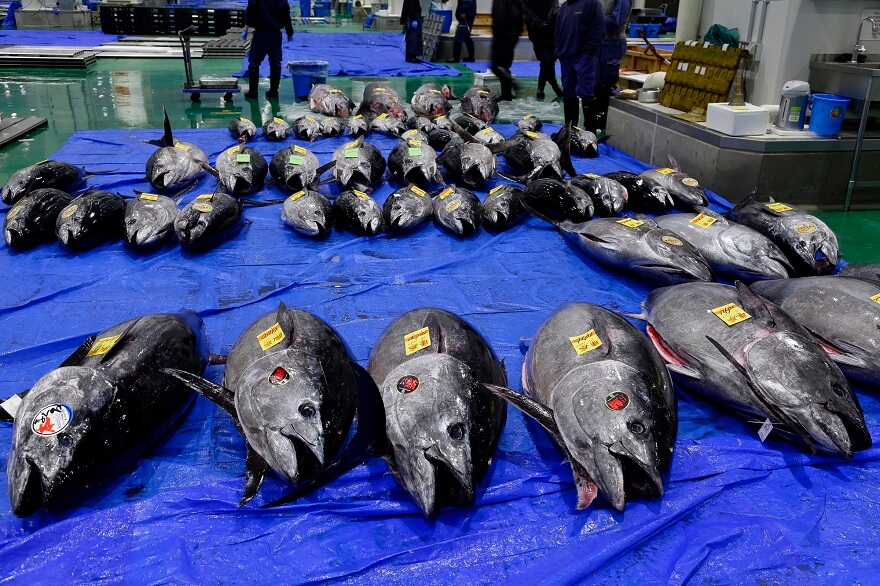 Toyosu Market opened in October 2018, as the central wholesale market for fresh food distribution for the entire Tōkyō area.
With a total area of ​​more than 40 hectares, Toyosu Market is proud to be the largest fish market in the world.
Toyosu Market consists of three main areas: (1) the wholesale fish area, (2) the fruit and vegetable wholesale area, and (3) the fish auction area.
In all three areas, there are dedicated sightseeing rooms for visitors, so you can watch the buying and selling process taking place inside the market.
Of course you can also go inside if you really intend to buy fish or vegetables, but be aware that this is a wholesale market so if you're just going to buy some, don't go in.
Of the three areas mentioned above, the fish auction area is the most attractive place for tourists.
From 5:30 to 6:30 a.m. daily, the tuna auction will take place here and you can watch the auction process through the glass doors of the sightseeing room.
While looking at the nearly 1000 tuna neatly arranged, don't forget to watch the way buyers raise their fingers because this is how they bid.
The sound inside is also streamed out, so you'll feel like you're in the middle of an auction.
With modern architecture, comfortable facilities and lively markets, Toyosu Market is an attractive destination for you to experience an interesting and unique experience of culture, cuisine and daily life in Japan.
Toyosu Market (豊洲市場)
Homepage: https://www.toyosu-market.or.jp/en/
Open hours: around 5:00~17:00 (closed on Sunday and some non-fixed days)
Map:

Tōkyō Dome City (東京ドームシティ): entertainment and relaxation paradise in the heart of the capital Tōkyō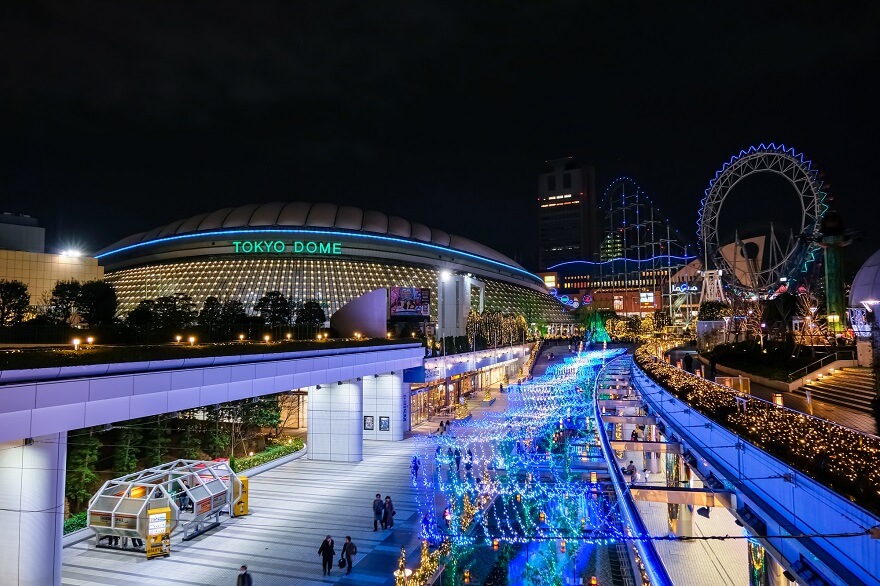 Tōkyō Dome City is an entertainment complex located in the Bunkyō district, Tōkyō.
Thanks to its diversity and facilities, Tōkyō Dome City has attracted more than 40 million visitors of all ages.
Some popular attractions in Tokyo Dome City include:
Tōkyō Dome: famous multi-purpose stadium used for baseball games and concerts.
Tōkyō Dome City Attractions: an amusement park with many attractive attractions, such as the "Thunder Dolphin" roller coaster with a maximum speed of 130km/h and the "Big O" ferris wheel with panoramic views of Tokyo.
LaQua: commercial facility with many shops, restaurants and beauty establishments. The most famous is the LaQua Spa hot bath facility that uses natural hot water that gushes out from a depth of 1,700m underground.
Tōkyō Dome Hotel: 155m high skyscraper hotel with 1006 rooms and 43 floors above ground, offering stunning panoramic views of Tokyo.
Shop, play or relax, whatever experience you're looking for, Tōkyō Dome City is sure to satisfy.
Tōkyō Dome City (東京ドームシティ)
Homepage: https://www.tokyo-dome.co.jp/en/tourists/
Open hours: tầm 10:00~21:00 (depending on location)
Ticket price: free to enter, pay for each game
Map:

Odaiba (お台場): an island filled with creativity and joy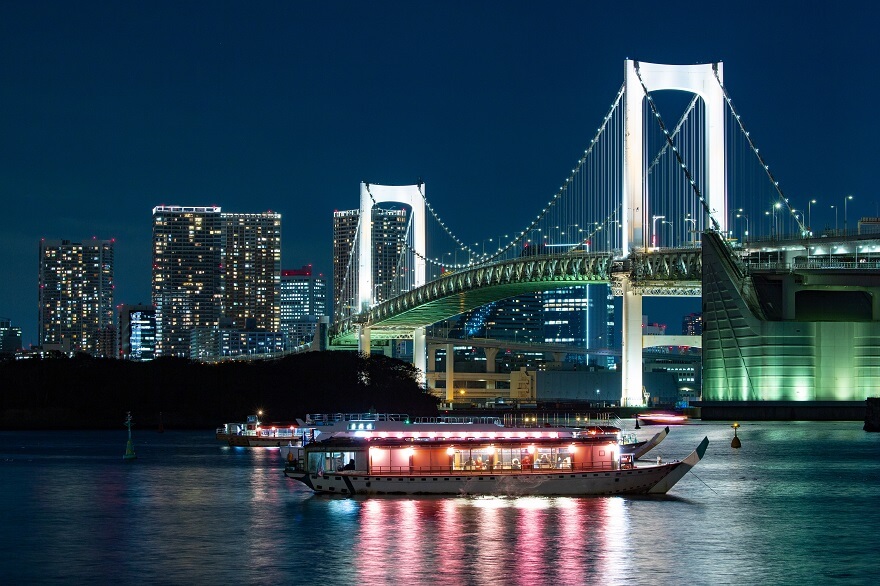 Odaiba is an artificial island located in Tōkyō Bay, which is also one of the popular tourist attractions in Tōkyō and attracts millions of visitors every year.
You can enjoy the whole day without getting bored in Odaiba because it is packed with interesting attractions and extremely modern entertainment centers.
Highlights include the largest indoor amusement park in Japan "Joypolis", the futuristic science museum "Miraikan" or the life-size Unicorn Gundam statue at Diver City shopping mall.
At night, you can take a stroll along the beach or visit a nearby restaurant to enjoy delicious food while watching the brightly lit Rainbow Bridge.
Odaiba is also famous for its interesting events and exhibitions that take place almost every day.
With beautiful landscapes, amazing beaches and impressive architecture, Odaiba creates a truly magical and fascinating space.
If you are looking for an interesting and colorful travel experience in Tokyo, then Odaiba is an ideal destination.
Odaiba (お台場)
Homepage: https://www.tokyo-odaiba.net/en/
Map:

Ginza (銀座): a place to experience luxury shopping and fine dining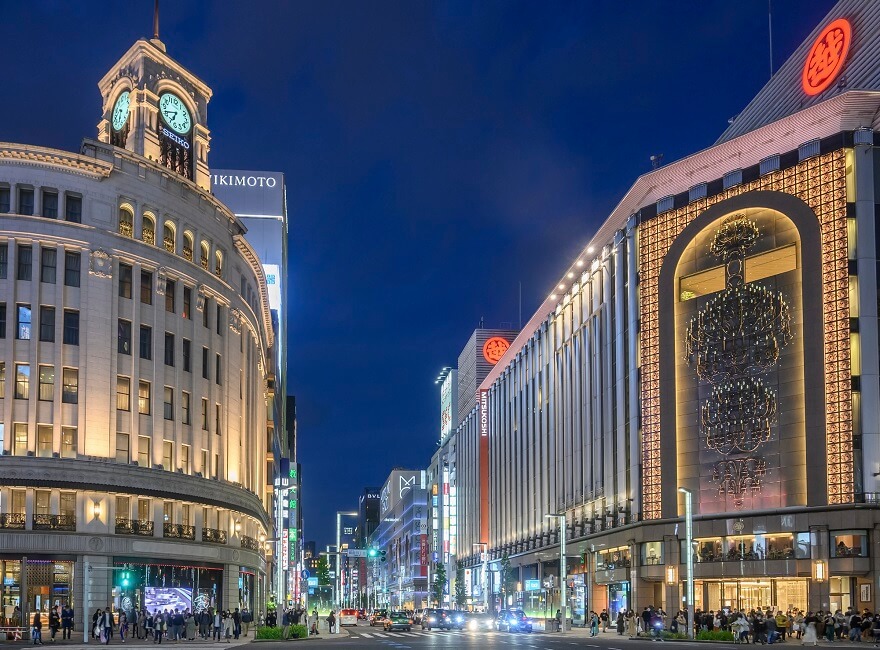 Ginza is one of Japan's top luxury neighborhoods, home to many high-end brands from around the world.
Some of the famous shopping malls in Ginza are Ginza Mitsukoshi, Matsuya Ginza, Wako and more recently GINZA SIX, which is also the largest department store in the Ginza area.
Ginza's attraction lies not only in its luxury and splendor but also in the peaceful and sophisticated atmosphere of the old days.
When walking in Ginza, you will sometimes encounter small alleys between magnificent buildings or Shinto shrines lining the road, giving you the feeling of standing between the present and the past.
Ginza is also home to many Michelin-starred restaurants – a prestigious award in the culinary world.
If you want to experience luxury shopping or enjoy high-class food when traveling to Tōkyō , you should visit Ginza.
Ginza (銀座)
Homepage: https://www.ginza.jp/en/
Map:

Kabuki-za (歌舞伎座): the only theater in the world dedicated to Kabuki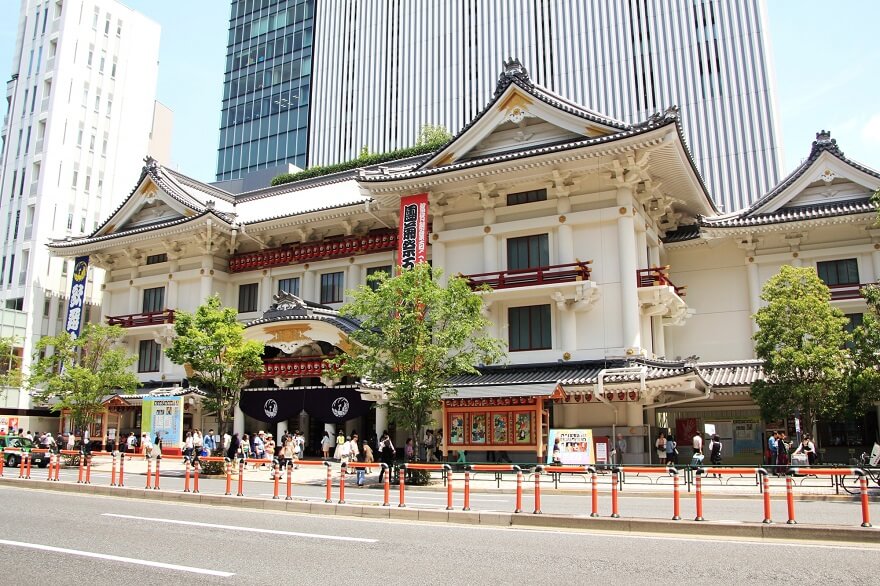 Kabuki is a genre of traditional Japanese drama with a history of more than 400 years.
Combining performance techniques, music, dance and makeup, Kabuki is considered a typical cultural symbol of this country.
Kabuki-za is a very famous Kabuki theater in Tōkyō.
Originally built in 1889, although it has undergone many restorations and restorations, Kabuki-za still retains the beauty and charm of a traditional work of art.
With a curved dome directly in front and two symmetrical towers on either side, Kabuki-za looks like an old samurai residence that stands out prominently among the skyscrapers in the area.
Kabuki-za Theater has performances almost daily, so you can easily buy tickets to enjoy Kabuki theater.
However, if you don't have enough time or just want to get a glimpse of this art, you can visit the "Kabuki-za Gallery" located on the 5th floor. Here, you will get a close look most of the costumes and implements are actually used in the Kabuki play.
There is also a small stage for visitors to step on and experience the feeling of becoming a Kabuki actor.
Before you leave, don't forget to stop by the souvenir shop located in the basement B2 of the theater.
Here you will find many unique gifts that are only available in Kabuki-za such as paper masks, chopsticks or candies… all printed with the faces of Kabuki actors.
Choose a gift for yourself as a way to make memories at Kabuki-za.
Kabuki-za Gallery (歌舞伎座ギャラリー)
Homepage: https://www.shochiku.co.jp/play/theater/kabukiza/ginza-kabukiza/gallery/
Open hours: 10:30~18:00
Ticket price: 600 yen
Map:

Sumō Museum (相撲博物館): a place that preserves the beauty and quintessence of traditional Japanese sports
Sumō is a traditional Japanese sport that combines strength and fighting technique.
It is a duel between two Sumō fighters in a competitive circle. The goal of the boxers is to push the opponent out of the circle or make the opponent lose balance and fall to the ground.
The Sumō Museum is located on the grounds of Ryōgoku Kokugikan Stadium (両国国技館).
The Sumō Museum is a place to collect, store and display Sumō-related materials such as paintings, costumes, and items used by the ancient Sumōs.
The museum does not have a fixed exhibition but changes the content 6 times a year so that visitors have the opportunity to see the most diverse Sumō materials.
The Sumō Museum is an interesting destination for those who are interested in Sumō and want to learn more about Japanese culture.
Sumō Museum (相撲博物館)
Homepage: https://www.sumo.or.jp/EnSumoMuseum/
Open hours: 12:30~16:00
Ticket price: free
Map:

Maxell Aqua Park Shinagawa (マクセルアクアパーク品川): the enchanting sea world in the heart of Tōkyō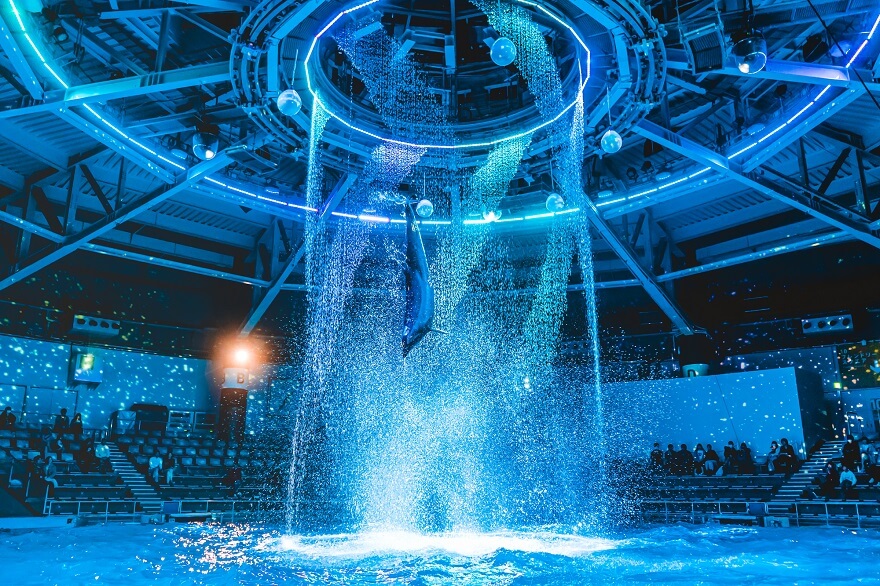 Maxell Aqua Park Shinagawa is an aquarium located about a 5-minute walk from Shinagawa Station (one of the largest train stations in Tōkyō).
This is a beautiful aquarium where sounds, lights, images and living creatures are combined to give you a fascinating experience of the marine world.
One of the most popular attractions of Maxell Aqua Park Shinagawa is the "Jellyfish Rumble" area, where transparent jellyfish dance between special lighting effects creating a truly magical scene.
Next to the jellyfish tank "Jellyfish Rumble", it is no exaggeration to say that most visitors to Maxell Aqua Park Shinagawa are to enjoy the dolphin show here.
The dolphin show takes place both during the day and at night, but if possible, join the night show to see the mesmerizing combination of light, music and water, of course. Even the dolphins are extremely smart and cute.
If you want to experience the sea world right in the heart of Tokyo, then Maxell Aqua Park Shinagawa is a perfect choice.
Maxell Aqua Park Shinagawa (マクセルアクアパーク品川)
Homepage: https://www.aqua-park.jp/en/aqua/index.html
Open hours: 10:00~20:00
Ticket price: 2,500 yen
Map:

Ghibli Museum (三鷹の森ジブリ美術館): lost in wonderland together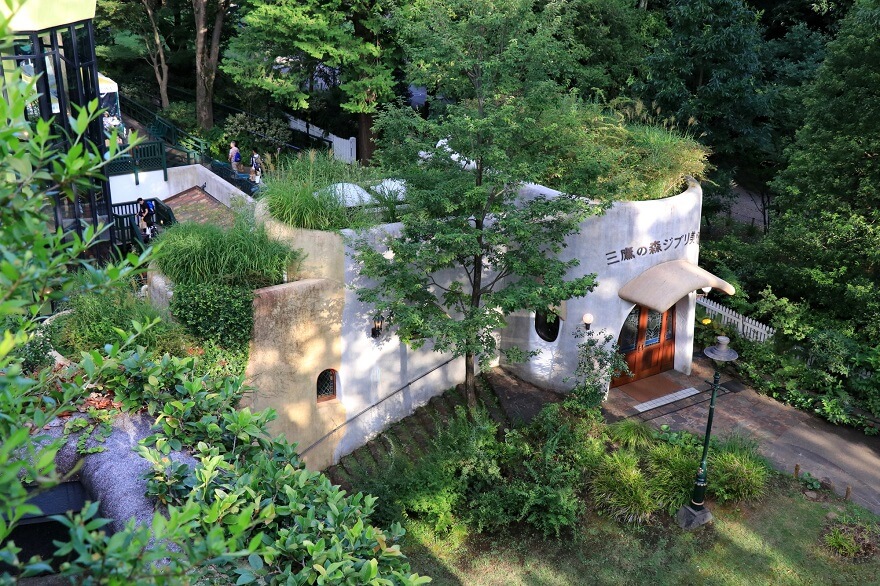 If you are a fan of Japanese animation, especially Studio Ghibli's animation, 100% Ghibli museum is definitely a paradise for you.
The Ghibli Museum located in Mitaka City is a place where you can experience the world of Studio Ghibli – the studio that produced such animated masterpieces as "My Neighbor Totoro", "Spirited Away" and "Princess Mononoke".
One of the reasons the Ghibli museum is so appealing is that it provides a detailed look at the animation process.
You'll have the opportunity to explore exhibits on the animation process, from character and setting design to drawing and animation. You can tour the gallery with original drawings, models and other artwork related to popular Studio Ghibli films.
Interestingly, there are no tables explaining information for the works on display and there are no specific regulations on the tour route. You just walk around the garden in the museum, leisurely look at the trees and turn in the direction you like.
Perhaps this is also the secret that makes everyone who has gone want to come back because maybe next time they will discover new things.
Note that you are not allowed to take photos or videos in the Ghibli museum.
Imagine yourself as a character in this wonderland, see it with your eyes, feel it with your body, keep those memories in your heart and take them home, friends!
Ghibli Museum (三鷹の森ジブリ美術館)
Homepage: https://www.ghibli-museum.jp/en/
Open hours: 10:00~18:00
Ticket price: 1,000 yen
Map:

Edo Tōkyō Open Air Architectural Museum (江戸東京たてもの園): go back in time to the Edo period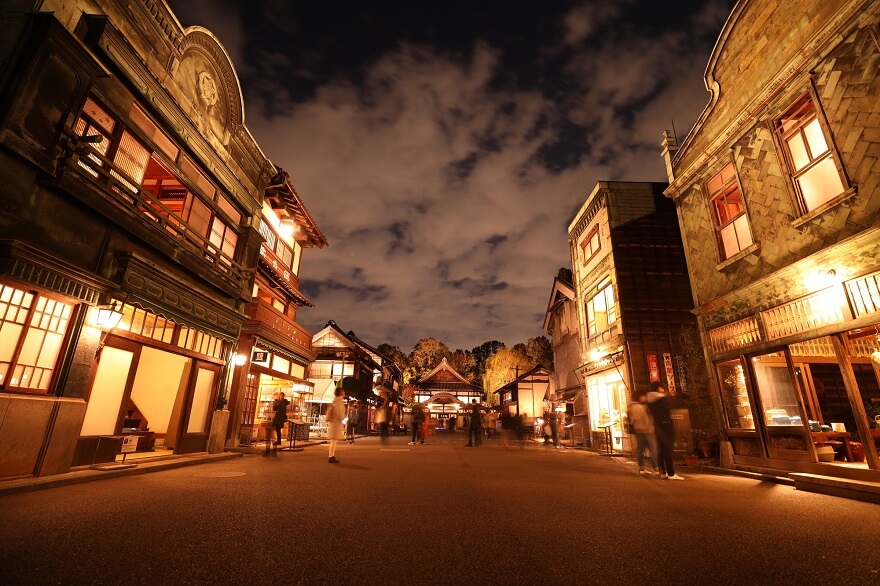 Edo Tōkyō Open Air Architectural Museum located in Koganei City is a place to restore and display architectural works of historical value from the Edo period (1603~1868) to the early Shōwa period (1926~1989).
These structures include folk houses, pubs, public baths… all of which have been meticulously and precisely recreated.
The interesting thing is that you can not only walk in the large space of the museum and admire the architecture, but also step inside to experience the actual living space of the people in the past. .
The Edo Tōkyō Open Air Architectural Museum is an attractive venue for those interested in traditional architecture and wishing to connect more deeply with Japanese history and culture.
Edo Tōkyō Open Air Architectural Museum (江戸東京たてもの園)
Homepage: https://www.tatemonoen.jp/english/
Open hours:
・April ~ September: 9:30~5:30
・October ~ March: 9:30~4:30
Ticket price: 400 yen
Map:

Small Worlds Miniature Museum (スモールワールズ ミニチュアミュージアム): Asia's largest miniature museum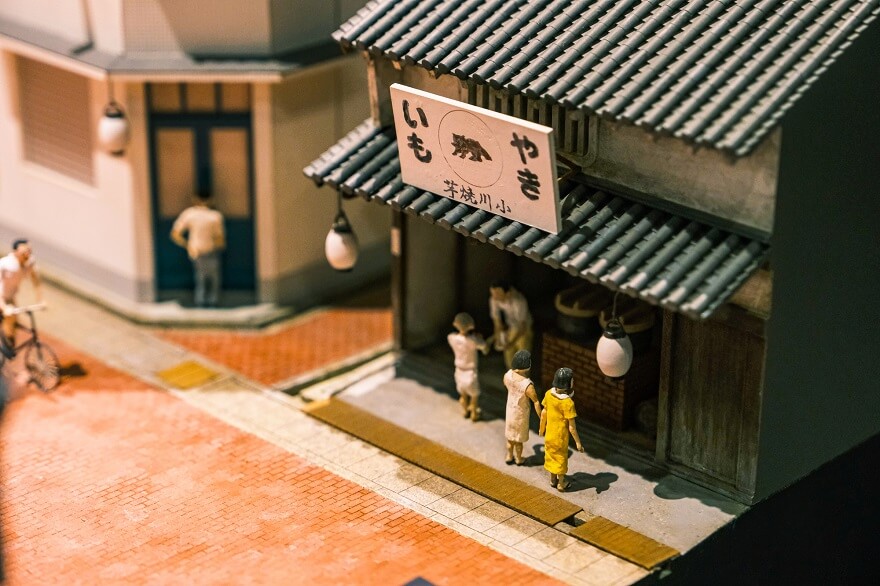 Small Worlds Miniature Museum, which opened in June 2020, is an emerging tourist attraction in Tokyo.
With a total area of ​​7,000 m², Small Worlds is proud to be the largest miniature museum in Asia.
Small Worlds is a very interesting place when a lot of tiny objects are hidden everywhere and you have to discover it yourself.
"Over here!" "Over there!"
Time and time again you will find yourself squealing like a child when you discover new perspectives inside the museum.
You can also enter the simulation areas to experience the extraordinary space and take unique photos, or join the workshop to create a unique miniature 3D model of yourself.
After browsing through the traditional attractions of Tōkyō, take a moment to get lost in the magical world of Small Worlds!
Small Worlds Miniature Museum (スモールワールズ ミニチュアミュージアム)
Homepage: https://smallworlds.jp/en/
Open hours: 9:00~19:00
Ticket price: 2,700 yen
Map:

Conclusion
With a harmonious blend of tradition and modernity, Tōkyō is an exciting and colorful tourist destination.
There are many places in Tokyo, in the same area, but you can find very unique contrasting scenes. For example, the Harajuku area, where the quiet Meiji Jingū Shinto shrine and the bustling Takeshita Street coexist, or the Ginza area, where you can find small alleys next to shopping malls lavish shopping.
From flourishing and modern to natural and peaceful settings, there's never much to see in Tōkyō .
Make sure to visit the places suggested in this article to enjoy Tōkyō to the fullest and better!